Be Alert! The Gospels Come to Life: Lectio Divina with the Sunday Gospel Readings - Print on Demand
New
Item Number: 125539
Description
Specification
"All who heard it were amazed …" (Luke 2:18). 
Attention to the cultural world of the Bible illuminates these weekly Lectio Divina exercises. Kevin Saunders's guided reflections help us to hear afresh the attractive, surprising, and even shocking claims of Jesus. Perplexing or too-familiar Gospel stories about the actions, teachings, and claims of Jesus will come to life and spur us to amazement—and more importantly, to grateful reflection as we grow in faith and learn to apply God's Word to our own lives and our own times.
Each of the three volumes begins with the First Sunday of Advent and concludes with the Solemnity of Christ the King. The titles echo Jesus's words in the opening Gospel for each year: 
Stay Awake! (Matthew, Year A, 2023, 2026, 2029)
Be Alert! (Mark, Year B, 2024, 2027, 2030)
Be Vigilant! (Luke, Year C, 2025, 2028, 2031)
"The Lectio Divina resources by Kevin Saunders are wonderful—so insightful. When I see the e-mail on Monday, I know that my week will fall into place.… I know that so many homilists would jump at the chance to have these wisdom guides at their disposal.… These are treasures that open up the Word." -- Fr. Michael Stechmann, O.A.R., St. Augustine Priory, Oxnard, California
ePub version also available here.
*Please note - Due to the unique nature of Print on Demand publications and process, print completion timing will vary and delivery dates may also fluctuate. Please allow an additional 48 hours for printing of Print on Demand products. Express shipping options are not available for these custom products. Print on Demand titles are non-returnable.
Number of Pages
192 pages
Measurements
5.75 x 8.25 in.
Adding more books
You are close to order a full case.
Do you want to add 2 more books to get the full case?
---
Related Products:
---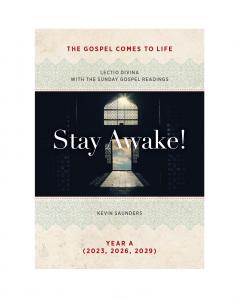 Stay Awake! The Gospels Come to Life: Lectio Divina with the Sunday Gospel Readings - Print on Demand
Attention to the cultural world of the Bible illuminates these weekly Lectio Divina exercises
View More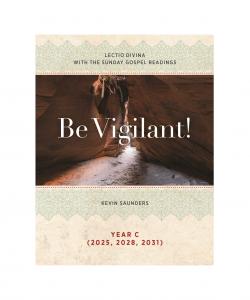 Be Vigilant! The Gospels Come to Life: Lectio Divina with the Sunday Gospel Readings - Print on Demand
Attention to the cultural world of the Bible illuminates these weekly Lectio Divina exercises
View More