De la debilidad a la fortaleza - Print on Demand
New
Item Number: 125338
Description
Specification
This Spanish edition book is the second in a series, intended to be used after the first book, Healing the Wounds of Trauma: How the Church Can Help. The first book helps people heal from trauma and loss using biblical and mental health principles. This second book, Strength from Weakness, helps people grow through their suffering and become more resilient so they are better prepared to face suffering in the future. It helps them explore more layers of their trauma and pain, and experience deeper layers of healing.
*Please note - Due to the unique nature of Print on Demand publications and process, print completion timing will vary and delivery dates may also fluctuate. Prior to COVID-19 our average time frame was 5-10 business days but now due to the crisis please allow 15-22 business days for printing of Print on Demand products. Express shipping options are not available for these custom products. Print on Demand titles are non-returnable.
Measurements
8.5 x 11.5 in.
Adding more books
You are close to order a full case.
Do you want to add 2 more books to get the full case?
---
Related Products:
---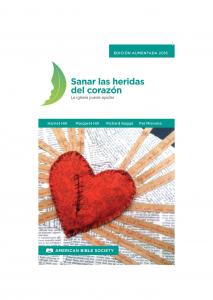 Sanar las heridas del corazón: La iglesia puede ayudar - Print on Demand
This book offers a practical approach to engaging the Bible and mental health principles to find God's healing for wounds of the heart. This provides a strong foundation for restored lives and relationships.
View More