Healing Hearts Club Story & Activity Book - African Edition 2017 - Print on Demand
New
Item Number: 124164-POD
Description
Specification
Authors: Margaret Hill, Harriet Hill and Margi McCombs
This is the child's book for the Healing Hearts Club™ program of Bible-based trauma healing for children who have experienced war, abuse, or a similar human or natural disaster.
The Healing Hearts Club features an interactive, story-centered, field-tested approach that provides vital mental health information within a biblical framework for children aged 9–13. It is designed for use in churches, orphanages, schools, or dedicated camps. Each child in a Healing Hearts Club session should get a copy of this book to keep. Lay facilitators can plan and lead the program using the companion Facilitator Book, HEALING CHILDREN'S WOUNDS OF TRAUMA.
Each of the ten lessons includes two illustrated stories—a Bible story and a composite real-life story about the experiences of "Sami and Rose"—so children can see the effects of trauma, learn how to work through their emotional and spiritual pain, and experience God's love for them. Each lesson also includes a memory verse and other activities to help children engage with the materials.
Paperback. 6 x 9 inches. 72 pages
*Please note - Due to the unique nature of Print on Demand publications and process, print completion timing will vary and delivery dates may also fluctuate. Prior to COVID-19 our average time frame was 5-10 business days but now due to the crisis please allow 15-22 business days for printing of Print on Demand products. Express shipping options are not available for these custom products. Print on Demand titles are non-returnable.
Adding more books
You are close to order a full case.
Do you want to add 2 more books to get the full case?
---
Related Products:
---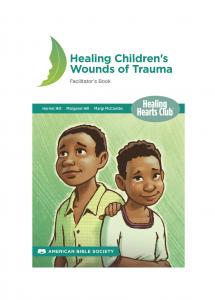 Healing Children's Wounds of Trauma - African Edition 2017 - Print on Demand
This book equips churches and concerned adults to help children recover after traumatic events like war or abuse.
View More