Sanar las heridas del corazón de los niños: Libro del facilitador - Print on Demand
New
Item Number: 124168-POD
Description
Specification
Authors: Harriet Hill, Margaret Hill, Margi McCombs
Wherever adults suffer, children suffer doubly. This book equips churches and concerned adults to help children recover after traumatic events like war or abuse. It is the leader's guide for the Healing Hearts Club™ program in Spanish, an interactive, story-centered, field-tested model of Bible-based trauma healing that provides vital mental health information for children in a biblical framework.
Using this book, lay leaders work with children aged 9–13 in small groups. Each child receives the companion volume, the CLUB SANAR CORAZONES HISTORIAS Y ACTIVIDADES. This facilitator's book includes the stories, along with activities, games, memory verses, and clear, comprehensive, and practical guidelines on how to run an effective trauma healing program for children—whether as a week-long camp or in weekly classes. Appendixes provide guidance for working with younger children or with teenagers.
Each of the ten lessons includes a Bible story and a composite real-life story about the experiences of "Carlos and Rosa" so children can see the effects of trauma, learn how to work through their emotional and spiritual pain, and experience God's love for them. The book has been field tested with leaders and children from Catholic, Orthodox, Protestant, and independent churches and orphanages.
This book is part of the product line from the Trauma Healing Institute at American Bible Society. It uses the same approach as the adult book, Sanar las Heridas del Corazón. The Institute provides ongoing support for this program, including an online resource packet with supporting material.
Endorsements
"Many children in today's world are victims of, or witness, acts of violence or abuse. Those who have experienced such trauma can go on to develop long-term mental health difficulties, not only causing considerable distress but also compromising their educational and social potential. "This program gives an opportunity to change that trajectory. By providing children with a language in which to describe their emotions, and helping them tell the story of their hurt and express their emotional pain, the program gives them the opportunity to begin a journey of recovery and healing. The facilitators' book provides all that is needed to run children's groups as well as train others in the methods used. "The Healing Hearts Club program is distinctive in helping children understand that whatever happens to them, they are special to God, and can take their pain to him. In a safe environment, with God's help, they can even begin to forgive those who have hurt them. "I commend this book to all who seek to assist children to recover from serious emotional trauma."— Dr Helen Hayes, FRCPsych, Consultant in Child & Adolescent Psychiatry, UK
"Now I know I am important to God. I am not rubbish, no matter what people say." "I have learned that if I just keep bad feelings inside, they will get worse." — Ugandan children, responding to the question "what I learned," after a Healing Hearts Club camp, April 2013
Paperback. 128 pages. 5.25 x 8.25 inches
*Please note - Due to the unique nature of Print on Demand publications and process, print completion timing will vary and delivery dates may also fluctuate. Prior to COVID-19 our average time frame was 5-10 business days but now due to the crisis please allow 15-22 business days for printing of Print on Demand products. Express shipping options are not available for these custom products. Print on Demand titles are non-returnable.
Number of Pages
128 pages
Measurements
5.25 x 8.25 in.
Adding more books
You are close to order a full case.
Do you want to add 2 more books to get the full case?
---
Related Products:
---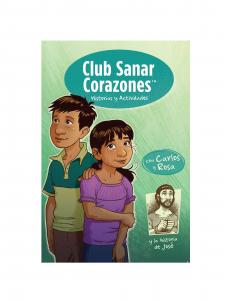 Club Sanar Corazones: Historias y Actividades - Print on Demand
This is the Spanish book for children in for the Healing Hearts Club™ program of Bible-based trauma healing for children who have experienced war, abuse, or a similar human or natural disaster.
View More