Tarjeta - Más allá del desastre (Beyond Disaster)
New
Item Number: 124986
Description
Specification
The "Más allá del desastre" postcard offers basic support for survivors immediately after a disaster. Designed for those who may still be in shock, the front of the card has an image by Makoto Fujimura and a verse from Isaiah 43. The back of the card lists typical physical and emotional reactions to trauma and short-term coping strategies. Available for free download, purchase in sets of [50], or packaged with the Más allá del desastre booklet for survivors.
4 x 6 inches, card stock
Adding more books
You are close to order a full case.
Do you want to add 2 more books to get the full case?
---
Related Products:
---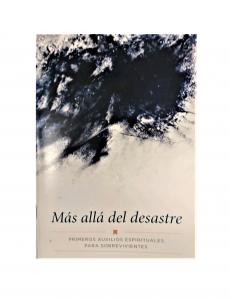 Más allá del desastre (Beyond Disaster)
Más allá del desastre is a Spanish guide for spiritual first aid for people who have survived natural or human-caused disasters.
View More